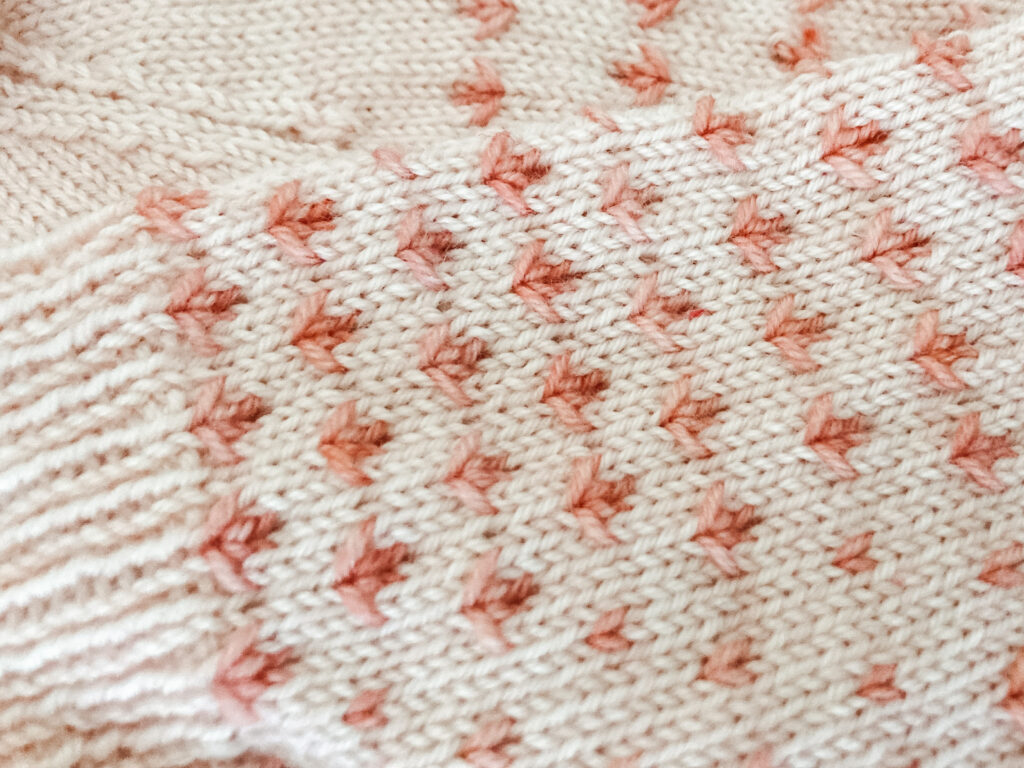 These socks are knitted from the cuff down with a heel flap. The pattern is not particularly difficult and uses only classic stitches with only one row knitted in two colours (using stranded knitting, like jacquard). The motifs are increasingly distant from each other, allowing the length of the sock to be adjusted without stopping abruptly fading seamlessly into the toe.
Important Rules
You need to be able to communicate in English. I'll only host one test thread for each new pattern, merging English and French versions of the pattern. In order to have everyone understanding everything and allow anyone to register, we need to write our posts in English.
You will get a beta version of the pattern and a deadline. Please do not share the pattern with anyone else. Sometimes a test knit needs to be super secret and neither I or you will be allowed to share pictures of WIPs or FOs before the pattern release day. Otherwise, you're very welcome to share what you're working on with the world. If you do so, don't forget to tag me as indicated in the presentation opposite.
The test deadline will be close to the release date of the pattern (think around two weeks prior to it).
In order for the test to go smoothly both for you and me, I'll need to track your progress along the way. Please let us know when you reach the stages described in the opposite requirements section.
Compensation:

Once all the stages described in the Mandatory section are done, you'll be marked as "Finished".You'll get the pattern for free in your Ravelry library upon publication.
If you managed to also do the Optional stages, you'll get a coupon code valid in my Ravelry store without expiration date for one extra free pattern.
If you're not done by the test deadline date, but you've participated along the way, that's fine. Then you'll still get a copy of the pattern for your library, but no coupon code for another.

If you have taken the test and not participated in the KAL along the way, do not finish by the deadline and do not post your project to the pattern page, well, that's not really in the spirit so you will not be asked to participate again,your Slack account will be deactivated and will not have a copy of the pattern in your library.
Test details
Start date : July 31th
Deadline: September 24th
Sizes: S [M, L] to fit foot circumferences of 19-21 [21-23, 23-25] cm / 7½-8¼ [8¼-9, 9-9¾]".
Difficulty: Advanced. You need to know how to knit stranded colourwork in the round, following a chart, and the basic sock construction.
Sharing: This is not a secret test, if you share pictures on IG, please tag #tisserincoquet and #hirondellessocks in the pictures.
Requirements
Mandatory :

Pattern downloaded
For both socks: cuff, leg, heel, gusset, foot, toe, bloked.
Feedback form filled and sent

Optional (to get an extra free pattern):

Ravelry project page created and linked to the pattern page using the test code
pictures of the finished and worn socks added to the Ravelry project page
Yarn & Notions
Yarn weight: fingering  yarn.
Main Colour (MC) = 230 [270, 310] m / 252 [296, 339] yds
Contrasting Colour (CC) = 20 [30, 40] m / 22 [33, 44] yds
Sample socks are worked in Eline et Laine Tabi (75% merino superwash, 25% nylon – 425 m / 465 yds & 100 g per skein), col. Sakura (pale pink, MC) and Rose Trémière (darker pink, CC). The stitch design will be enhanced if you choose highly contrasting yarns but that's up to you.
Gauge: Stocking stitch worked in the round, blocked = 34 stitches x 46 rounds.
Needles & Notions:
Circular needle, double-pointed needles, or your preferred needles to work in the round in 2.5 mm / US #1.5 or the appropriate size to match the gauge.
1 stitch marker;
1 tapestry needle.
Thank you again for joining in the test. It would really help us if you could fill in the test feeback form below
For all the scale questions: 1 = not satisfied at all; 2 = not satisfied; 3 = neutral; 4 = satisfied; 5 = very satisfied.